Sewer & Septic Tank Video Inspection
We use our sewer camera to diagnose blockages and leaks in your lines. We can also locate septic tanks and inspect the interior of septic tanks and grease traps with camera diagnosis. Our equipment can view up to 100 ft of drain line that's 4 inches in diameter or smaller. This can help detect roots in the lines, broken pipe or other blockages in drain lines. Give us call to set up an appointment for this service.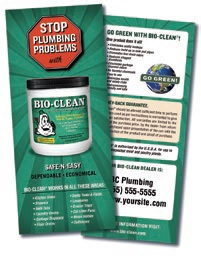 Bio-Clean: Waste Eliminator
Pro Pumping is a proud dealer of Bio-Clean, an effective, economical, and environmentally friendly solution to waste build-up in septic systems. To learn more about how Bio-Clean can be used to clean your septic system, give us a call at 573-474-5489.